Meet The Boy From The Old Blue-Band Pack And What He Looks Like Now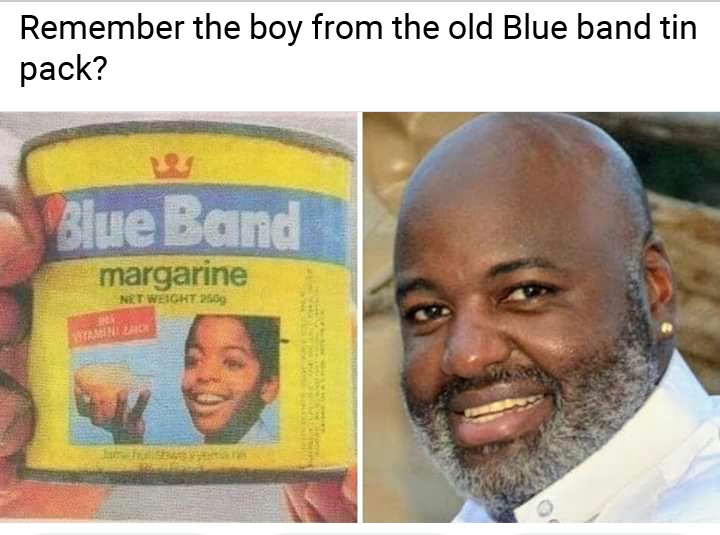 In 1984 during the Blue Band Margarine Campaign in Kenya, an obscure, grinning 11-year-old Chris Kamau (presently 45) turned into a family unit picture in East Africa by showing up on the Blue band tin holding a cut of bread with the mainstream spread.
Until now, a few people call him 'BB'.
Read what he said during a short interview with Quick Talk
My name is Chris Kamau. I am a resident of the Republic of Kenya and by expansion a pleased individual from the East African Community. I am the most established of three kids and I have a more youthful sister and sibling.
I was raised in the city of
Nairobi and lived quickly in Europe and afterward returned home until my transition to the USA in 1997. I sought after further investigations all identified with my picked way of expressions, amusement, and media.
Tell me more...
I am an art, entertainment and media practitioner, who is an alumnus of Berkley College of Music in Boston, Massachusetts, and a graduate from the American Academy of Dramatic Arts, New York, USA.
Were the arts and media always your childhood dream?
[Even as ] a child, I always had the dream I would end up being an entertainer of some kind and here we are today; I am actively engaged in the Kenyan arts, entertainment, and media scene [he has done music in different genres including country, pop, broadway, R&B, rock, and gospel.]
Apart from being the Blue Band kid, any special memories of childhood?
Christmas season with all the family and the way we would have lots of food, drink, parties, love, and laughter. Even then, we never forgot that the reason for the season was celebrating the birth of the Messiah. Our Lord and Savior, Jesus Christ.
So, how did you even get to appear on the Blue Band tin?
This is how; you either believe in angels, miracles, pure luck, or all three. The way I ended up being the 'Blue Band boy' is the stuff of legend. It involved a curious set of circumstances, including being at the right place at the right time.
My mother had an appointment with my auntie, a frustrated creative director, and an equally bewildered team at a major multi-global advertising, marketing, and public relations concern.
[There was] a brilliant marketer and artist, who has remained my good friend to this day, and one of the best photographers ever to come from this side of the world. It felt quite simply, amazing [seeing my face on the Blue Band tin]!
How much money were you paid?
At the time of shooting the Blue Band Margarine campaign in 1984, I was a minor and so, it was my parents who were entrusted with the payment on my behalf.
What are you currently doing?
I am the current chairperson of Kenya Actors' Guild and very actively engaged in all things pertaining to and related to acting as a profession in Kenya.
Where do you draw your inspiration from each day, seeing as fame found you early in life?
I am a person who deeply values the gift of life that God chooses to bestow upon us, as He chooses and if He chooses daily.
My belief is that every day I wake up in good health, safety and happiness is yet another day that God has granted me to fulfill my potential and that of others according to His will and His plan for my life. It is God that inspires me, regardless of the challenges, struggles, ebb and flow, highs and lows of life, each and every single day in my life.
Going to a supermarket/shop and seeing your face on the Blue Band tin everyday…!
At the time I was on the Blue Band can, it felt amazing! And very exhilarating and to this day, there are still quite a few people who refer to me as "BB". I have always taken it in the intended spirit of jest that it is given.
If you were to be marooned on a desert island, what is the one thing you would take?
A genie that can grant me unlimited wishes!