Yay Or Nay? See Greatest Musicians You'll Forever Remember In Nigeria Music Industry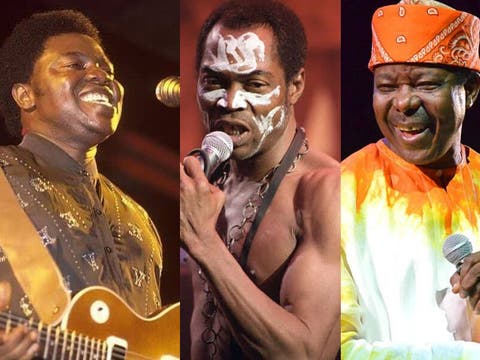 Recall that Nigerian Music Legends includes the likes of King Sunny Ade To Fela Kuti Who Are The Mainstream Then And Many Others, as Nigerian Music Industry Stands Out And Are Widely Recognized In The Western World.
Below are popular music legends you will forever remember;
Fela Kuti
Fela Anikulapo Kuti, also professionally known as Fela Kuti, or simply Fela, was a Nigerian multi-instrumentalist, musician, composer, pioneer of the Afrobeat music genre.
Afrobeat is a style most closely associated with Nigeria, though practitioners and fans are found throughout West Africa, and Afrobeat recordings are a prominent part of the world music category found throughout the developed world. It is music with elements of highlife and other styles of West African music.
Chief Sunday Adeniyi Adegeye MFR, known professionally as King Sunny Adé, is a Nigerian jùjú singer, songwriter, and multi-instrumentalist. He is regarded as one of the first African pop musicians to gain international success and has been called one of the most influential musicians of all time.
Sir Shina Peters Who Is Known Professionally As Shina Peters is a Nigerian Jùjú Singer.